Groundhog Day Menu
---
Network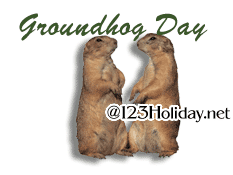 Shadows
As light emitting from a source gets hit by an opaque object a shadow is created away from the source and on the other side of the object.

Shadows under the sun are created when the sunrays get hit by any opaque object - living or not. As the sun moves on from east to west shadows are created. Thus shadows are the longest when the sun is in the east or, west horizon. At around noon when the sun is perched just overhead, the shadows get reduced to a minimal length. The movement of shadow in sync with the sun could be applied in making a sundial, the earliest form of clock known to give a near perfect reading.

This shadow movement also changes with the change of season. In winter as the North Pole leans away from the sun light falls a bit slantingly on the objects in the North. Thus shadows are always a little longer throughout the winter days as against those during the summer. The variation in this shadow movement also helps us to predict the shifting of the seasons.

Now is it really possible to predict if spring is near or far?

Well, on February the sunlight is already bound for summer as the North Pole comes nearer the sun. The length of shadow is thus somewhat shorter, but not remarkably enough. So it is difficult to distinguish between a late January and a late February shadow unless you are a keen regular observer.



Send Flowers & Gift Baskets Online!