Groundhog Day Menu
---
Network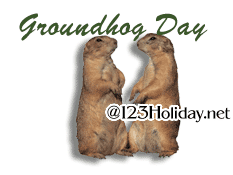 Groundhog Day Trivia
All groundhogs have 22 teeth.
Groundhogs hibernate one to a burrow, with at least two doorways.
Males emerge earlier than females each spring.
Groundhogs can lose 50 per cent of their body weight in hibernation. Their maximum size is 10 kilograms.
They can both swim and climb trees, and have a top speed of 15 kilometres an hour.
Groundhog Day was once celebrated by ancient Celts. It's halfway between the winter solstice and spring equinox.
Farrah Fawcett, Tom Smothers, James Joyce, Graham Nash, Christie Brinkley and Wiarton Willie's handler, Sam Brouwer were all born on Groundhog Day.
Send Flowers & Gift Baskets Online!





Search the web: